Enjoy the activities in and around Blue Mountain Campground.
Our location in Saugerties, Ulster County puts you just minutes from Catskills golfing, paintball, go-carts, horseback riding, farmers markets, dining, shopping, festivals and much more!
Hiking, Biking, Climbing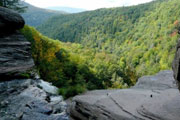 Kaaterskill Falls, The Mohonk Preserve, Lake Minnewaska, not to mention countless trails through the Catskill Preserve.
Antiques & Shopping
Downtown Saugerties, Woodstock, Hudson, Pheonicia, Catskill and Chatham… your treasure is out there.
Art & History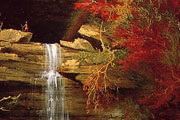 Blue Mountain is just 2 miles south of America's First Art Colony; Palenville, NY. Explore the Thomas Cole house in Catskill, and Frederick Church's Olana in Hudson. Then roll South to Mills, Vanderbilt and Roosevelt estates in and around Hyde Park.
Sports and Thrills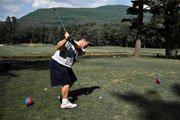 The Rip Van Winkle Country Club is seconds away.. play a round of golf with amazing mountain views as your backdrop. Go horseback riding at Bailiwick Ranch, or catch the Skyride at Hunter Mountain.
Kayaking, Canoeing, Fishing, Tubing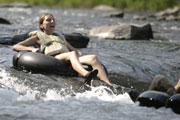 We're not just beautiful mountains. . . with the Hudson River and hundreds of lakes, creeks and streams nearby, we've got the wet stuff covered. Go fishing in any of the Catskill Preserve's many streams, or charter a boat and guide on the river. The Esopus Creek is renowned for excellent kayaking and tubing.
Map of Area Attractions
We're constantly updating this map with exciting places to hike, explore, shop and enjoy the Catskill Mountains and Hudson River Valley.</> Click here for a larger map with a list of destinations